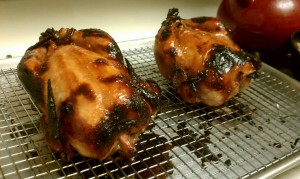 Last night, I experimented.  I would not say that I am at the point yet where my experiments always turn out well.  In this case, I was pleasantly surprised!  Since I did not follow a recipe (except to gauge the cooking time of cornish game hens), and did not bother to write anything down, I can only give a rough estimate of what went into this dish:
2 1 1/2 lb cornish game hens, rinsed and patted dry
4 large garlic cloves, diced
2 T of fresh ginger, peeled and diced
4 T honey
3 T mirin
zest and juice of 1 lemon
2 lemons, sliced
1 c orange juice
1 c soy sauce
dash of cornstarch
salt and pepper to taste
Combine all ingredients except hens, salt, and pepper into a gallon-size ziploc bag.  Close bag and shake to mix.  Add hens to bag and let sit in fridge for one hour.  Preheat oven to 400°F.  Remove hens from marinade and place on a baking sheet fitted with a rack.  Season the hens with salt and pepper.  Cook for one hour, until hens are cooked through.  Pour remaining marinade into a cast iron skillet and cook at medium-high heat, allowing to boil for at least five minutes.  Add cornstarch and turn down heat, letting sauce thicken.  If sauce gets too thick, more orange juice and soy sauce may be added.  Occasionally baste hens with cooked marinade.  When hens are fully cooked, take hens out of the oven and let stand for ten minutes.  Pour sauce over hens and/or over white rice.
Tags:
cornish game hens
,
recipe
,
roast
,
teriyaki